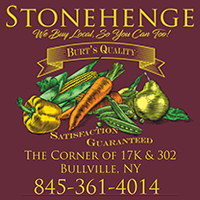 Stonehenge Farm Market located at 1401 route 302 in Bullville NY is a garden center and farm market featuring seasonal plants and flowers, hanging baskets, pottery, garden decorations, fresh produce, as well as seasonal local produce, local honey, farm fresh eggs, local baked goods and other garden and planting related items sure to make your garden and flower beds look their best and most beautiful.
CONGRATULARTIONS TO STONEHENGE MARKET FOR THEIR 50TH YEAR IN BUSINESS!
Stonehenge Farm Market is a plant nursery, garden center and farm market serving the Pine Bush, Bullville, Circleville, Walden, Walker Valley, Thompson Ridge, Montgomery, Bloomingburg, Town of Montgomery, NY and Town of Crawford, NY communities.
No matter the season, Stonehenge Farm Market has all your seasonal & holiday plants, flowers, fresh produce and seasonal vegetables; from Holiday wreaths, to Fall pumpkins, Fall flowers and corn stalks, Spring perrenials & annuals, Summer plants, shrubs, hanging baskets and flowers - it's all here, at Stonehenge Farm Market in Bullville.
Stonehenge has everything you need to get your outdoor flower garden looking great - from pottery and garden decorations, to gardening and planting related items to help make your job easier - and more efficient, with better results.
And for you garden & gardening beginners; Also, Stonehenge Farm Market offers free garden and planting advice to help you through the tough times, just stop in and we'll listen!
For those larger and more bulkier purchases; such as bagged mulch, topsoil and other large items - the staff at Stonhenge Farm Market will gladly assist in carrying & packing your care quickly and efficiently.
More importantly, Stonehenge Farm Market proudly features fresh produce and baked goods from local farms and vendors, as well as local honey, local eggs, local cookies, pies and other baked goods sure to enhance any recipe or kitchen table.
Stop in today and visit our beautiful farm market & garden center in Bullville, NY.
Like us on Facebook!