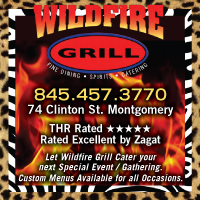 The Wildfire Grill is a restaurant located at 74 Clinton Street in Montgomery, NY that features fine dining in a casual and friendly atmosphere - perfect for family dining or a romantic night out for families, friends and couples in the Town of Wallkill, Middletown, Newburgh, Pine Bush, Walden, Circleville, Scotchtown, Goshen and the greater Montgomery, NY. area.
COVID 19 CURB SIDE TAKOUT AVAILABLE, PLEASE CALL IN YOUR ORDER!
The Wildfire Grill provides on & off site professional catering services.
The Wildfire Grill keeps you guessing... ​If you are looking for a unique new dinning experience, then the ​Wildfire Grill located at 74 Clinton Street in Montgomery, NY should be on your "A" list.
This place is GREAT!
As soon as you walk in you feel welcome and at home, because the ​Wildfire Grill ​is family owned and operated. It's all here... the menu, the staff, the atmosphere, the bar, and of course the local "classic characters" that frequent the place.
​At the Wildfire Grill in Montgomery all of your senses will be entertained!
The ​Wildfire Grill ​delivers a diverse menu with the appropriate wines for your dinner, and the appetizers are varied and wonderful. The dinning room is comfortable, and large enough for private parties and special on site catered events - with a full service bar located off the dining room so that your meal and company won't be too distracted.
On some Friday evenings, the ​Wildfire Grill features live acoustic music from the Hudson Valley's best musicians, in a classic intimate family setting.
During the late Spring, Summer, and early Fall, the outside ​​back patio is open for dinning and cocktails, and has wonderful perimeter lighting creating a warm & intimate atmosphere. A wonderful setting to meet with close friends and family. Call, or stop in today - and experience the Wildfire Grill in Montgomery!
Wildfire Grill Catering Services: Please consider the Wildfire Grill for your next private party or catered event. Krista and her chefs will meet with you personally to customize a menu that is perfect for your gathering or event, and more importantly - one that will work within your budget!
The Wildfire Grill features on and off site professional catering services, please call today for details!
The Wildfire Grill has a private dining room that accommodates up to 60 people comfortably and offers customized menus for your special occasion from Showers, Birthday parties, Rehearsal dinners, Office parties to Family Reunions.
Catering available off premise for Weddings, Anniversary Parties or Holiday Galas with menu planning and staff to take care of all your party needs. Call today to schedule your appointment to begin planning. The Wildfire Catering staff will cover all aspects of your party & event - from appetizers to signature cocktail menus and everything in between.
Like us on Facebook!
https://www.facebook.com/pages/The-Wildfire-Grill/478012530503