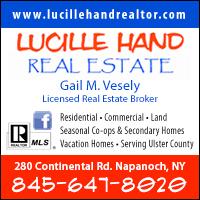 Lucille Hand Real Estate is a realtor in Napanoch, NY that provides professional real estate services to and for buyers and sellers of real estate in Ellenville, Town of Wawarsing, Accord, Kerhonkson, Town of Rochester, Wurtsboro and the surrounding Ulster and Sullivan County, NY area. Lucille Hand Real Estate conducts appraisals and accurate comparative market analysis.
LUCILLE HAND REAL ESTATE HAS MOVED TO THEIR NEW LOCATION AT 280 CONTINENTAL ROAD IN NAPANOCH, NY!
Lucille Hand Real Estate located at 280 Continental Road in Napanoch, NY is a full service real estate company and realtor that has been successfully working with buyers and sellers in Ulster County including Warwarsing, Ellenville, Greenfield Park, Spring Glen, Cragsmor, Napanoch, Town of Marbletown, Kerhonkson, Accord, Town of Rochester, Wurtsboro, the Town of Mamakating, Grahamsville, Denning and the greater Hudson Valley, NY region for over 3 generations.
At Lucille Hand Real Estate in Napanoch, they specialize in residential & commercial real estate, land, seasonal and second homes, hunting lodges & fishing camps, vacation homes, first time buyers, and art studios.
Three generations in any business says something - and in real estate it starts with the word trust, trust built from the ground up - especially on the local community level!
More importantly, Lucille Hand Real Estate in Napanoch, NY will provide you with a clear, comparative market analysis or appraisal done by their certified real estate professional - and provide you with a clear and concise snapshot analysis of the value of your home or property in relation to other surrounding properties so you can feel confident in appreciating the true value of your listing.
Like us on Facebook!
https://www.facebook.com/GailsRealEstate/
Fair Housing Link:
https://dos.ny.gov/system/files/documents/2021/08/fairhousingnotice.pdf