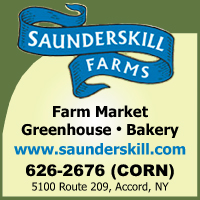 Saunderskill Farms located at 5100 Route 209 in Accord, NY farm market, nursery, garden center, greenhouse and bakery featuring seasonal plants & flowers, hanging baskets, fresh produce, seasonal local produce and other garden and planting related items sure to make your garden and flower beds look their best and most beautiful. Their bakery has all your favorite fresh baked goods, soups, salads & wraps.
For over 336 years, Saunderskill Farms has been growing fresh fruits and vegetables in the fertile Town of Rochester soil. Now, Saunderskill Farm Market, Greenhouse & Bakery features 15 greenhouses heated with their own corn.
The greenhouses start filling up late February with hanging baskets, garden flats, perennials, vegetable plants, hot house tomatoes - and new this year are our hot house strawberries. As the greenhouses start to empty in the Spring the attention is turned to the fields.
For the serious gardener they carry seeds, pots, fertilizer, mulch, potting soil, tools and other accessories, and the selection of over 4,000 mums is grown right at the Farm Market Greenhouse.
At Saunderskill Farms they are currently farming 450 acres; from Asparagus, Strawberries, Sweet Corn, Tomatoes, to Apples and Pumpkins - these are just a handful of the fruits and vegetables grown at Saunderskill Farms in Accord, NY.
The history of Saunderskill Farms (originally named for the tributary of the Rondout Creek that flows throught it) is as rich as the soil that has supported it for 12 generations.
Originally granted to Lieutenant Hendrick J. Schoonmaker by Peter Stuyvesant in 1663 as payment for military service, the family's original 300 acres of prime Rondout bottomland has been continuously farmed since 1680.
Second in age only to the Hull family farm in Southhold, Long Island, Saunderskill Farm now includes more than 800 acres of vegetables, flowers and orchards.
The stone manor house, built in 1787, still stands on the property, as does the barn that housed oxen used to pull barges on the Delaware & Hudson Canal, a section of which meanders through the property. Saunderskill is one of the few farms in the nation to have received the rare Tricentennial Award from the U.S. Department of Agriculture.
Check us out Instagram!