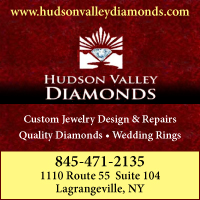 Hudson Valley Diamonds located at 1110 Route 55 in LaGrangeville, NY is a jeweler & jewelry store that features fine diamonds, diamond jewelry, fine gems, custom design jewelry and watch repair services to their customers in LaGrange, Pleasant Valley, Millbrook and the Wappingers Falls area. Hudson Valley Diamonds also specializes in appraisals, wedding rings, estate jewelry and custom engraving.
David Hunt owner, buyer and personal jeweler & gem consultant, has been in the diamond industry for nearly twenty years, and has worked for two major wholesale diamond cutters and importers as a buyer/seller and distributor of polished diamonds and fine diamond jewelry to retail stores across the country.
Since then, Dave has bought, cut, sold, and distributed loose diamonds to jewelers around the world, and he has worked with some of the most prestigious companies in the industry - De Beers among them.
At Hudson Valley Diamonds, their inventory is purchased directly through cutting facilities in Tel Aviv and New York, and David personally hand selects each diamond for superior cut, color, clarity - and above all cost, to offer his clients superior merchandise for less.
More importantly, the buying is done exclusively by David and offered to you directly with no middle men or other sales people involved!
Also, David will personally take the time to guide you through the finer points of selecting a diamond or piece of fine diamond jewelry that suits your taste and your budget.
Please consider Hudson Valley Diamonds in the Town of LaGrange for your next diamond purchase, engagement ring, anniversary gift, graduation - or that special gift for that special someone or memorable occasion.
http://www.pinterest.com/hvdiamonds2014/pins/
GOLD BULLION - Hudson Valley Diamonds buys and sells gold and silver bullion, whether you're looking to expand your investment portfolio or want to convert your precious metal items into cash in the Hudson Valley, NY area. Stop by our Lagrangeville, NY location to learn more about our bullion sales and gold buying services.
Bullion is defined as gold or silver that's at least 99.5 percent pure. Such metals are usually bought and sold in the form of coins, bars or ingots. There are a number of advantages to investing in gold and silver bullion, including:
Buying and selling with ease
Diversifying your portfolio
Holding lasting value in portable packages
Contact Hudson Valley Diamonds in LaGrangeville today if you are interested in buying gold or silver!