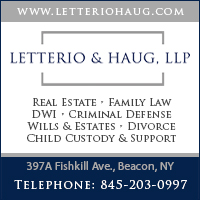 Letterio & Haug, LLP law office is a law firm located at 397A Fishkill Avenue in Beacon, NY that provides professional legal services, legal counsel & legal advice to their clients, families and business's in Beacon, Fishkill, Hopewell Junction, Poughkeepsie, Carmel, Cold Spring, Wappingers Falls, Newburgh and the local surrounding Town of Fishkill, NY area.
Letterio & Haug has nearly two decades of legal experience in the Hudson Valley.
Letterio & Haug specializes in: Real Estate Law - Family Law - DWI Criminal Defense - Wills & Estates - Evictions - Divorce - Child Custody - Child Support - Domestic Violence - Personal Attention For Every Client
Need an attorney!? If you need to resolve a real estate matter, have been charged with a crime, are going through a divorce, or need legal assistance with another matter, turn to the trusted lawyers at Letterio & Haug, LLP in Beacon, NY.
Backed by nearly two decades of combined legal experience, Letterio & Haug have a lengthy track record of success in a wide variety of practice areas. More importantly, their legal team can efficiently navigate you through the often tricky legal waters and legal process - as well as protect your rights and help you make well-informed decisions about the future of your specific case.
Also, when you hire one of their lawyers, you get an entire legal team of knowledgeable legal professionals, all working together to help you achieve your goals - and they always strive to make themselves as accessible as possible to their clients. You can count on the lawyers at Letterio & Haug to be there for you when you need them most!
Letterio & Haug, LLP in Beacon, NY - Proudly serving the Hudson Valley, including Dutchess, Putnam County, Ulster County, and Orange County, NY.
Why individuals, families and business's in the Hudson Valley unconditionally choose Lettario & Haug for their legal representation:
Flexible To Work With Your Schedule
Compassionate & Empathetic Legal Team
Personalized Attention For Every Case
Aggressive Advocates For Every Client
Direct Access To Your Managing Attorney
Strategic Approach To Complex Cases
Contact their office today to schedule a consultation with one of their experienced attorneys.
Like us on Facebook! https://www.facebook.com/letteriohaugllp