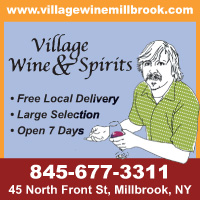 Village Wine & Spirits located at 45 Front Street in Millbrook, NY is a wine and liquor store in Millbrook featuring a wide and regionally comprehensive selection of quality wines and liquors to their loyal customers in the greater Millbrook, Pleasant Valley, Wappingers Falls, LaGrange, Hyde Park, Poughkeepsie and the surrounding local area. Village Wine & Spirits is open 7 days, with free local delivery.
Village Wine & Spirits is the best kept secret for wine, liquor and spirits enthusiasts in the Hudson Valley.
At Village Wine and Spirits they proudly offer a hand picked selection of wines and small batched spirits that are varietally correct, uniquely balanced, and ultimately expressive and complimentary to their place in the world - and specific region. They've got it all, including great prices!
Village Wine & Spirits in Millbrook proudly features wine gems from around the world, join us every Saturday between noon and 7pm to taste and experience a different selection of wines.
More importantly, their informal Saturday wine tastings in Millbrook allow you to experience new wines without having to buy them first - and will ultimately help them to get a better feel for their customers tastes and palate.
Stop in today, and see why Village Wine & Spirits in Millbrook, NY is the the favorite friendly one stop destination for wine and spirit enthusiasts all throughout the Hudson Valley.
WINE TASTINGS EVERY SATURDAY - SPIRITS OPEN EVERY DAY!
Like us on Facebook!
https://www.facebook.com/VillageWineMillbrook
Or, send us an e-mail to updates@villagewinemillbrook.com to receive updates and offers.