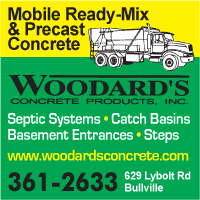 Woodard's Concrete Products, Inc. located in Bullville, NY features precast concrete products, concrete septic systems, custom concrete catch basins, concrete basement entrances, precast concrete steps and custom concrete forms to their customers in Orange, Sullivan, Ulster, and Dutchess Counties - and quality precast concrete products in the Hudson Valley, NY area.
For over 55 years Woodard's Concrete Products, Inc. has been consistently providing quality precast concrete products to their customers in the Hudson Valley.
Woodards Concrete offers a wide variety of concrete products; from concrete septic tanks, catch basins, concrete steps and manholes, and home owners and contractors throughout the Hudson Valley area have faithfully continued to rely on Woodard's Concrete Products for all of their concrete construction solutions and needs.
Please contact Woodards Concrete Products today for their fast and convenient mobile ready concrete mix truck. Woodards Concrete Products delivers pre cast concrete products to Middletown, Walden, Montgomery, Monroe, Kingston, New Paltz, Newburgh, Marlborough, Cornwall, Highland, Saugerties, Tone Ridge, High Falls, Cottekill, Rifton, Rosendale, New Windsor, Pine Bush, Ellenville, Town of Rochester, Town of Marbletown, Wallkill, Washingtonville, Chester, Sugar Loaf, Gardiner, Town of Woodbury, Town of Ulster, Town of Esopus, Kerhonkson-Accord, Town of Shawangunk, Town of Crawford, Town of Rosendale, Wurtsboro, Bloomingburg, Circleville, the Town of Mamakating & surrounding Hudson Valley NY communities.
Over the years, Woodard's Concrete Products and their concrete product line have steadily grown with the industry. In 1971 Woodard's began offering the Perm Entry basement entrance system, and in 1973 joined the NPCA and erected their first production building, the second production building was completed in 1984.

In 1988, as service requirements and orders increased, Woodard's added a full service truck maintenance shop and a separate office building in 1993. In 1997 they converted part of the production shop for use in welding and fabrication of new custom concrete forms, and their production was further improved and modernized with a computer controlled batch plant.

Woodard's Concrete product line initially started with septic tanks and well tile, and have since grown to include concrete dry wells, catch basins, manholes, steps, access ramps, custom chambers, and much more.
CONCRETE SEPTIC TANKS - CONCRETE CATCH BASINS -CONCRETE STEPS & BASEMENT ENTRANCES - CUSTOM CONCRETE FORMS - MOBILE CONCRETE MIXER - CONCRETE RETAINING WALLS - CONCRETE ACCESS RAMPS - CONCRETE DRY WELLS - CUSTOM CONCRETE STORAGE TANKS
Woodard's Concrete Products, Inc. - Quality Precast Concrete Products for Home & Industry. Serving the Hudson Valley Since 1966
Quality Concrete Products for:
Residential
Commercial
Municipal Applications
Engineer & Architect Resources Link: