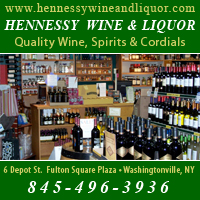 Hennessy Wine & Liquor located at 6 Depot Street at the Fulton Square Plaza in Washingtonville, NY is a local wine and liquor store in Washingtonville featuring a wide selection of quality wine & spirits with friendly and personalized customer service, to all their local customers in Washingtonville, NY and the surrounding Town of Blooming Grove, NY. Hennessy Wine & Liquor is open 7 days a week.
At Hennessy Wine & Liquor, they proudly offer their customers wines from all regions and countries, as well as unique wines and spirits for those special holidays and occasions.
Family owned and operated, Danny Hennessy and his knowledgeable staff will personally assist you with general wine pairings, logical selections based on your budget, and wine & spirits party or event planning advice based on your specific needs.
Stop in today and visit their friendly well stocked store - parking is quick and easy, and Danny and his staff will gladly assist customers to their cars with heavy or bulky purchases.
HENNESSY WINE & LIQUOR - FEATURING A WIDE SELECTION OF QUALITY WINE & SPIRITS - OPEN 7 DAYS - WINE & LIQUOR CASE DISCOUNTS - WINE & SPIRITS CONSULTATION SERVICES - SPECIAL ORDERS WELCOME
Hennessey Wine & Liquor - Serving the Washingtonville NY area for 20 years - Doing their best to compete with the bigger stores by offering the best prices they possibly can!
Like us on Facebook!
https://www.facebook.com/HennessyWineAndLiquor?ref=hl
Hennessy's Wine Club Link: