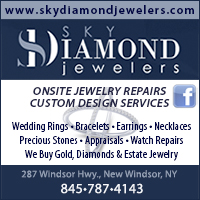 Sky Diamond Jewelers located at 287 Windsor Hwy. in New Windsor, NY is a full service jeweler that features on site jewelry repairs and custom jewelry design services to their customers in Cornwall, New Windsor, Newburgh, Vails Gate and the surrounding local area. Sky Diamonds specializes in custom wedding ring design, and has a large selection of earrings, necklaces, bracelets, watches and jewelry.
At Sky Diamond Jewelers they are committed to creating a jewelry shopping experience you will never forget, and their store is specifically designed to capture the beauty and luxury of fine jewelry - while at the same time delivering the intimate feeling of exceptional one-of-a-kind service.
More importantly, when you choose Sky Diamond Jewelers for your engagement or wedding ring, your ring buying process for that special day will be treated special no matter what your budget - and they will help design and customize to perfection, the symbol that best represents your commitment to each other.
On Site Repairs - At Sky Diamond Jewelers their in-house jeweler can fix any broken or damaged jewelry. From Ring re-sizing & prong replacement, to chain soldering and clasp repair for bracelets and necklaces, Sky Diamond Jewelers does it all and in house, so your jewelry never leaves the premises.
Custom Design Services - Whether you have an idea for your perfect piece of jewelry or engagement ring, or you want to customize your ring to compliment your personal style, Sky Jewelers in New Windsor is here to make it happen with their digital CAD jewelry design services and wax models.
Appraisals - If you're newly married and want to insure your jewelry, you will need to get it appraised. At Sky Diamond Jewelers they offer professional appraisal services for any fine gems or jewelry you have, and their appraiser has over 20 years of experience and is certified by GIA to give you complete and trustworthy appraisals of your jewelry.
Please consider Sky Diamond Jewelers in New Windsor, NY for all your custom design jewelry services and jewelry repairs!
Like Us on facebook!
https://www.facebook.com/skydiamondjewelers/
Check Us Out on Instagram: