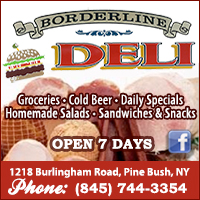 The Borderline Deli located at 1218 Burlingham Road in Pine Bush, NY is a full service deli & convenient store that serves breakfast, lunch and dinner, and features great breakfast sandwiches daily, hot & cold subs, daily lunch specials, specialty subs & sandwiches and homemade side salads 7 days a week. To save time, The Borderline Deli also carries all your quick grocery & shopping convenience items.
Open every single day, the Borderline Deli has a little bit of everything for your shopping convenience - and their daily & weekly lunch specials, deli side salads, sandwiches and subs are made fresh to order, and sure to satisfy any budget or appetite.
Looking for the best breakfast sandwich in the Pine Bush area? Look no further - the Borderline Deli serves breakfast sandwiches everyday, and they're always cooked fresh to order, hot and ready to go so you can get on your way.
More importantly, the Borderline Deli in Pine Bush is where to the locals go, so you know the food is good - and you can always count on running into a friend, neighbor or local character.
Also, at the Borderline Deli special orders are always welcome - please call ahead, and they will have your order ready to go for pick up. The Borderline Deli - good food and convenience under one roof!
Whether you are working or living in Pine Bush, Thompson Ridge, Bullville, Cragsmoor, Walker Valley, the Town of Shawangunk or the Town of Crawford, the Borderline Deli is your local "go to" deli featuring fresh, hot coffee, great breakfast sandwiches, hot & cold subs, side salads, drinks and snacks, convenient grocery items and daily specials sure to keep you coming back for more.
Like Us on facebook!
https://www.facebook.com/Borderline-Deli-Original-1652108128355947/