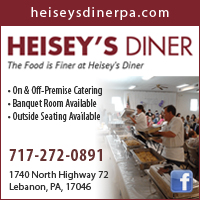 Heisey's Diner, Catering, and Banquets is a family restaurant and caterer located at 1740 North Highway 72 in Lebanon PA only minutes from Myerstown and Jonestown.
Enjoy home-cooked meals, homemade desserts and your favorite cocktail in their restaurant, on their outdoor patio or in their bar. You can enjoy your favorite cocktail with your meal. If you enjoy home-cooked Pennsylvania Dutch style meals in Lebanon County you'll love Heisey's Diner.
A family owned business for over 40 years, you can enjoy a delicious meal at great prices and you're likely to run into someone you know at Heisey's Diner.
Heisey's Diner Features:
Lunches Include:
Quick Lunch Suggestions
Wraps
French Fries with Gravy
Burgers
Salad Bowls
Sandwiches
Kids Menu
Seafood
Chicken
Beef
Pork & Veal
Breakfasts which include:
Omelets
Pancakes and much, much more!!
Dinners Include:
Bountiful Portions
Beef
Chicken
Pork & Veal
Seafood
Any of our lunch items
Your Favorite Drinks & Cocktails from the bar
Heisey's On & Off-Premises Catering
Get delicious and affordable catering, including bar service and a special catering menu, for your wedding, special occasion, business meeting or any other upcoming event.
The experienced staff at Heisey's Catering can travel within a 50-mile radius to make your event a huge success.
They even offer "liquor liability" bar service for your wedding, serving the liquor you've purchased for your special day. You'll learn all about our catering menu options and prices during your consultation. Taste tests are also available! Just give them a bit of notice beforehand.
Heisey's Catering also Features:
Catered Lunches
Catered Dinners
Heisey's Banquets Features:
Homestyle Menus for Dinners
Lunch and Cold Menu Buffet Style
Please call:
Heisey's Diner Catering
Phone #: (717) 272-0891
Ask for Gary Heisey
Hours:
Monday-Thursday 6:00am to 9:30pm
Friday & Saturday 6:00am to 11:00pm
Sunday 6:00am to 2:00pm