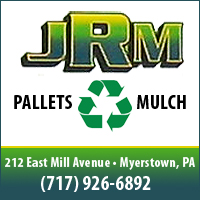 Looking for Natural Organic Mulch in Myerstown, Lebanon, and surrounding areas at affordable prices? Look no further JRM Pallets & Mulch sells and offers delivery of high quality mulch to homeowners, landscapers and businesses. Save money by buying direct from JRM Pallets & Mulch since they manufacture their own mulch for retail and wholesale buyers.
JRM Pallets & Mulch sells the best mulch in Central, PA. All of the mulch is double ground processed as well as naturally aged and cured for fine consistency. Their colored mulch is made from naturally occurring colorants that will not harm animals or plants. The long lasting mulch retains its color throughout the year.
When you buy mulch from JRM Pallets & Mulch you will be assured of getting a "Full Scope by The Yard"!
You can choose from Dyed Black, Brown Mulch or their Natural Premium Dark Mulch. Their mulch products are available for pick-up or fast delivery is available 7 days a week.
JRM Pallets has also been making Pallets & Skids for business and industry in Myerstown, Lebanon and Berks counties for over 20 years. They sell reconditioned and remanufactured pallets and some are Grade A and Grade B.
At JRM Pallets they repair damaged pallets with recycled materials and provide drop trailers for pallet removal.
If you need speedy Broken Wood Pallet Repairs, JRM Pallets will respond within 24 hours. No order is too big or too small and every one will be handled in a timely manner. They repair thousands of pallets on a weekly basis and deliver within 24 hours of order placement.
JRM Pallets offers Wood Pallet Recycling for off-sized pallets you do not need. Send them to JRM Pallets they can disassemble them and cut the wood to correct lengths to repair pallets. You are more than welcome to send any quantity of pallets to be recycled. They also accept drop-offs anytime, day or night, but be sure to call first with your expected time of arrival. At JRM Pallets they pay for 48x40 GMA pallets.