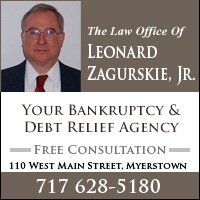 Looking for a Bankruptcy Attorney, Debt Relief Agency or a Lawyer that provides professional legal services to families and individuals in the Lebanon, Myerstown, Reading and surrounding communities? Look no further all roads lead to The Law Office of Leonard Zagurskie, Jr. is conveniently located at 110 West Main Street in Myerstown, PA 17067.
If you are experiencing financial problems while facing divorce, IRS debt, credit card debt, foreclosure, vehicle repossession or being sued by a creditor The Law Office of Leonard Zagurskie, Jr will advise you on debt relief options or bankruptcy if that is right for you.
You've come to the right place. If you're considering bankruptcy Leonard Zagurskie, Jr. a bankruptcy lawyer can help. He has been providing legal services to clients of Lebanon and Berks county.
The Law Office of Leonard Zagurskie, Jr is a debt relief agency. "Attorney Zagurskie and his staff help people file for relief under the Bankruptcy Code."
Attorney Zargurskie is Bankruptcy Lawyer and he will determine if bankruptcy is right for you, and can advise you on debt relief options -- including Chapter 7 and Chapter 13 Bankruptcies and Tax Resolution strategies.
Chapter 7 bankruptcy — the most straightforward form of relief for many whose financial problems primarily involve credit card balances and other unsecured debts
Chapter 13 bankruptcy — offering debt relief and reorganization with more time to pay for people with a reliable, substantial income source, including the opportunity to strip the lien of a second mortgage or cram-down an auto loan
The Law Office of Leonard Zagurskie, Jr work closely with people who need debt relief, applying their knowledge and experience to address critical issues such as:
Stopping home foreclosure or repossession of other property such as a vehicle
Stopping creditor harassment that can make your life feel unmanageable
Stopping wage garnishment
Determining whether unpaid taxes may be dischargeable through bankruptcy
Openly discussing the impact of bankruptcy on your credit rating and ability to rebuild credit in the future
Evaluating and executing asset protection strategies
Mówimy po polsku (We speak Polish)
Affordable Rates
At The Law Office Firm of Leonard Zagurskie Jr. they understand that the last thing people want to worry about is a big legal bill. They will clearly explain their affordable rates up front, so you will not have any surprises when your case is resolved.
For A Free Annual Credit Report Click The Link Below:
https://www.annualcreditreport.com/
Call for a Free Consultation