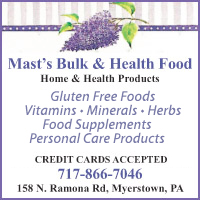 Mast's Bulk and Health Food Store is your one stop shop in Myerstown, and Lebanon PA for all your gluten free foods, vitamins, minerals, herbs, food supplements and Natural "chemical free" personal care products.
Not only does Mast's Bulk and Health Food Store offer the highest quality in nutritional products, they also offer a team of knowledgeable nutritional experts eager to help you make informed, healthful choices, with your goals and best interests as their top priority.
Mast's Bulk and Health Food Store is a small family-owned and operated business. They stock a wide variety of hard-to-find herbs and supplements. They also have specialty food items and gluten-free products.
The employees at Mast's Bulk and Health Food Store are not doctors nor do they diagnose, cure, or promise any results. Every person's body is different, so outcomes will vary. They can only recommend products based on personal experience, testimonies of others, or general statements from the research of more knowledgeable people.
You will also find a wide variety of personal care products including essential oils, CBD oil without THC, chemical free hair dye, bath soaps and shampoos.
When you want the Highest Quality Health Foods & Supplements and Expert Advice & Knowledge, Mast's Bulk and Health Food Store employees are your best friends in the business.
Their selection is determined by a combination of quality, value and research.