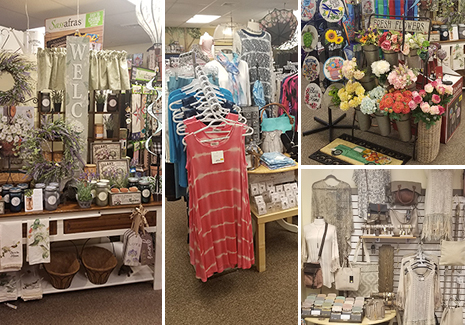 Old Forge Gift Shoppe located in Palmyra, features unique gifts, home decor, women's apparel & accessories, candles, jewelry, greeting cards, garden flags and much, much more. At Old Forge Gift Shoppe you will find traditional home gifts for all seasons.
Old Forge Gift Shoppe is conveniently located at 1800 S Forge Rd, Palmyra, PA on Route 117 between Routes 322 & 422 directly across from Reigle Airport; only minutes from Hershey, Hummelstown, Elizabethtown, Annville and Cleona.
No matter the reason or season, The Old Forge Gift Shoppe has that special gift that you're looking for - but it's more than that – it's a fun place to shop! The staff at this gift shop is friendly, pleasant and always willing to help you pick-out that special gift for that special person or occasion.
Old Forge Gift Shoppe offers a wide variety of choices and styles, from traditional to modern - classic to creative.
Whatever the season, the staff always has Old Forge Gift Shoppe prepared for that special Holiday event, with a warm and wonderful touch that feels like home! The Old Forge Gift Shoppe always has something for all your special (last minute!) home gift shopping needs and decor.