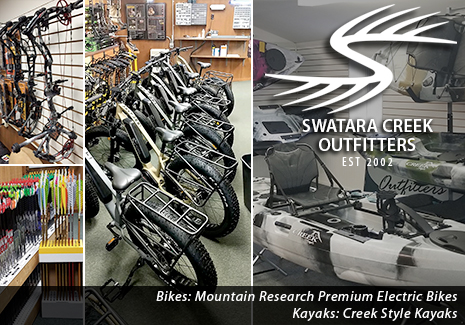 Searching for Archery, Hunting Equipment & Supplies, Kayaks or E- Bikes in Lebanon, Harrisburg or Lancaster in Central, PA? Visit Swatara Creek Outfitters in Annville, PA for everthing for the outsdoorsman including Archery, Hunting Equipment & Supplies, Kayaks and E-Bikes. Central Pennsylvania's Archery Pro Shop, Kayak and E- Bike Dealer carries all major brand archery equipment, hunting supplies and outdoor products for the Lancaster, Lebanon & Harrisburg area. If you're looking for bows, crossbows, bow accessories, arrows they carry all styles and many brands.

Swatara Creek Outfitters Archery Pro Shop is conveniently located 2 miles North of the square in Annville, PA. on route 934 in Lebanon County. Just minutes from Harrisburg, Hershey, Jonestown, Lancaster, Lebanon, Middletown, Myerstown, Palmyra, Schuylkill County, Lancaster County, Dauphin County and surrounding areas.

Swatara Creek Outfitters was established in 2002 and their pro shop is over 5,000 sq. ft. It is owned operated by Kyle Stokes.
They take pride in having a very neat, clean, and well organized showroom with over 180 new 2012 bows in stock from all the top manufactures along with our expansive selection of the highest quality accessories at very competitive pricing.

Swatara Creek Outfitters has become one of the fastest growing and highly respected archery pro shops in central, PA. They are dedicated to providing every customer with the absolute best technical service and expertise ensuring their satisfaction. Their knowledgeable, personal and relaxed approach to sales will provide each and every customer with the most enjoyable and satisfying buying experience.

They are Lebanon County's Exclusive MATHEWS and MISSION Bow Dealer!
Swatara Creek Outfitters stocks recreational and fishing sit-on-top kayaks!
Searching for Quality, Affordable Kayaks in Lebanon, Harrisburg or Lancaster Pa? Swatara Creek Outfitters has a large selection of recreational and fishing kayaks. Check out CREEK STYLE KAYAKS If you looking for "Quality Kayaks at unbelievable prices."
CREEK STYLE KAYAKS A Brand that you can trust!
From great fishing kayaks to recreational paddlers, from flat water to surf, CREEK STYLE KAYAKS can be found at Swatara Creek Outfitters. These sit-on-top kayaks have all the features you'll want.
CREEK STYLE KAYAKS move fast, track straight and have covered cargo compartments. They have stable fishing platforms, great mobility and flexibility. Best of all you will get a quality kayak at an affordable price!
Looking for E- Bikes (electric bikes) in Lebanon, Harrisburg and Lancaster, PA? Swatara Creek Outfitters stocks MTR Mountain Research E- Bikes (electric Bikes).
MTR
Mountain Research Bikes
Premium E- Bikes Built to Take You Farther...
Mountain Research Bikes are purpose driven electric hunting and recreational bikes built on over 30 years of mountain biking experience and remote big timber bicycling hunting expertise.
All MTR Bikes were intentionally designed to meet all Pennsylvania-e-bike laws to the maximum speed and power limits allowed by the state. Staying legal and knowing the laws are your responsibility and all MTR Bikes can be programmed for specific legal use on all public lands where e-bikes are permitted.