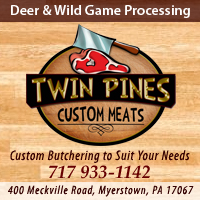 Looking for Butcher Shops that do Deer and Wild Game processing in Lebanon, Myerstown, Berks, Lancaster and Lebanon County in Central PA? All roads lead to Twin Pines Custom Meats conveniently located in Myerstown, PA just off of Routes 78, 22 & I-81.
At Twin Pines Custom Meats you receive the highest quality processing all orders are processed separately. They process ALL big game and can give you any custom cut that you would like. Steaks, Chop Meat, Sausage, Jerky Meat, Stew Meat… You name it, they'll do it! Each cut of meat is vacuum sealed to preserve the freshness and to offer their clients with the highest of quality.
Are you looking for a Roaster Pig or Butcher Hogs for you next Pig Roast? Look no further Twin Pine Custom Meats will provide you with Naturally Grown Roaster and Butcher Hogs. Wow your guests at your next Pig Roast gathering, party or event!
At Twin Pine Custom Meats they sell freezer beef and freezer pork as whole animal, halves, or quarters (split-side).
Twin Pine Customer Meats provide the service of butchering, cutting, wrapping, vacuum packing and quick freezing domestic animals.
Twin Pines Custom Meats offers a large variety of custom menu items and they are famous for smoked products which are prepared on site. With such a variety to choose from you will see why Twin Pine Custom Meats has become the processor of choice for many hunters in Central Pennsylvania.
Certified by the Pennsylvania Department of Agriculture, they ensure the safe handling of your deer.
All steaks and roasts are vacuum packed (NOT FREEZER WRAPPED) to ensure freshness & longevity. All packs are professionally labeled with the animal type and type of cut. All meat is packaged and frozen immediately.
"The Meat You Bring In Is The Meat You Take Home"