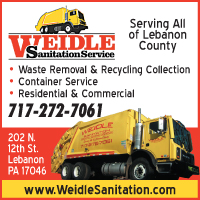 Weidle Sanitation specializes in Residential and Commercial waste removal, garbage collection, trash removal, waste management and recycling services.
Weidle Sanitation has been proudly serving the homeowners, small businesses, property management companies and Landlords in Lebanon County, PA for over 100 years.
Weidle Sanitation is locally owned and operated and provides great service at competitive rates. If you are looking to start service, or change your existing service, please consider Weidle Sanitation for all your waste removal and recycling needs.
Towns Served:
Annville, Cleona, Cornwall, Palmyra, Campbelltown, Fredericksburg, Indiantown Gap, Lawn, Lebanon, Jonestown, Mount Gretna, Myerstown, Newmanstown, Quentin, Palmyra, Richland, Reistville and Schafferstown.
Townships Served:
Annville Township, Bethel Township, East Hanover Township, Heidelberg Township, Jackson Township, Millcreek Township, North Annville Township, North Cornwall Township, North Lebanon, Township, North Londonderry Township, South Annville Township, South Lebanon Township, South Londonderry Township, Swatara Township, Union Township, West Cornwall Township and West Lebanon Township.