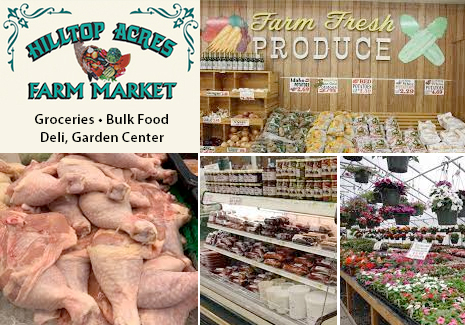 Hilltop Acres Farm Market is your local grocery store with farm fresh produce, frozen and bulk food, homemade baked goods, dairy and a full deli counter offering cold cuts and prepared foods. Hilltop Acres Farm Market is located at 347 Rife Run Rd, Manheim Pa and has been providing local food and garden stuff to the residents of Manheim, Lebanon and Lancaster for many years.
Bulk Food
Hilltop Acres has a wide variety of the bulk foods you would need from candy to baking supplies plus coffee, pasta and canning supplies.
Deli
Hilltop Acres Farm Market has a full service deli offering a wide variety of lunch meats and cheeses, prepared food including chicken salad, coleslaw, a variety of sausages & salami's, premade hoagies and much more!
Deli Trays and fruit baskets
Hilltop Acres offers deli trays and fruit baskets for your next party. They offer vegetable trays, snack trays, deluxe deli platters,vegetable and cheese platters.
Local Fresh Produce
Hilltop Acres Farm Market has fresh produce delivered daily from local farms to ensure the freshest quality.
Poultry
We have our own fresh farm raised poultry available raised on our farm with no preservatives, no growth horomones, no antibiotics, no animal bi-products, all natural and fed all vegetable diet.
Bakery
Hilltop Acres Farm Market has a bakery selection including homemade cakes, cookies, whoopie pies and other seasonal items including Christmas cookies.
Grocery
There are a large variety of grocery items such as produce, candy, baking and cooking ingredients, pasta, rice, beans, coffee, cereal, oatmeal, frozen foods, nuts and dried fruits. In addition to all the unique groceries and snacks, you can find staple groceries such as milk, eggs, bread, ice cream, frozen vegetables, canned goods, baking mixes, and much more.
Flower and Garden Center
Hilltop Acres has a garden center including hanging baskets, annuals, soils and more seasonally.