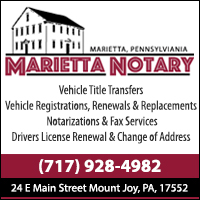 Marietta Notary and Messenger Service provides vehicle title transfers for cars, trucks, motorcycles, trailers, RVs, mopeds, boats and ATVS, vehicle registrations, renewals, replacements, apportioned plates & services notarizations and fax services. They provide services for Drivers License Renewal and Change of Address.
Marietta Notary & Messenger Service and Gift Shop has been serving customers in Mount Joy, Columbia, Marietta, Manheim , Elizabethtown, Lancaster and surrounding areas in Lancaster County, PA for over 15 years located at 35 W Main Street in Mount Joy, PA 17552
Marietta Notary & Messenger provides Messenger Work for Dealers & Station Owners, including plates and renewals for dealers and inspection stickers for station owners in approximately two days. You will be provided with professional and friendly customer service at Marietta Notary and Messenger Service.
Apportioned Registration services available.
Marietta Notary & Messenger Services has been providing the residents and business of Marietta and Lancaster County, PA with an array services to satisfy all of their Notary Needs. Their goal is to make sure your experience with them is a pleasant one! Your return is very important to them. If they can't help you, they will do their best to point you in the right direction.
Mount Joy Gift Shop
The Marietta Notary & Messenger Services in Mount Joy carries some gift shop items including Prim Star and wooden decor, Colebrook Country Candles and soap, The Candlesmiths candles, Keepers of the Light Candles, Scented wax melt and warmers, air fresner and Slap Ya Mama hot sauce and spices.