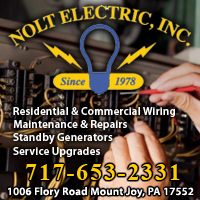 Looking for an Electrician or Electrical Contractor in Mount Joy, Elizabethtown, Manheim or Lancaster, PA? Nolt Electric provides residential and commercial electrician services to homeowners and commercial businesses. They are licensed and fully insured electrical contractors that provide quality full service electrical contracting services.
Nolt Electric has 42 years' experience providing residential and commercial electrical services in the Lancaster PA area. Nolt Electric provides Residential & Commercial Wiring, Standby Generators, Service Upgrades, maintenance and repairs and other electrical work.
Nolt Electric provides same day service call based on availability.
Backup generators
A permanently installed Generac home backup generator protects your home automatically. It runs on natural gas or liquid propane (LP) fuel, and sits outside just like a central air conditioning unit. A home backup generator delivers power directly to your home's electrical system, backing up your entire home or just the most essential items.
Generac also offers a wide range of home backup generators.
RESIDENTIAL SERVICES
Panels Changes
Nolt Electric can upgrade and replace service panels to make sure your home or business is safe and ensure you have access to the power you need.
Home Wiring
The wiring in your home is a critical part of its structure. It ensures that the power supply and connected appliances function optimally, and it protects you from electrical fires and related hazards. It's important that older homes are inspected and rewired on a regular basis to meet modern standards and preserve the integrity and safety of your home.
Lighting Design
With Nolt Electric guiding you, a custom lighting design can create a beautiful new environment that adds value and makes your home a pleasure to live in or office a brighter place to work in.
Smart home installation
At Nolt Electric, it is our pleasure to serve the electric needs of the Central PA area, including the best smart home installation Mount Joy has to offer.
Commercial Services
Nolt Electric provides commercial services including but not limited to New Construction Electrical, Commercial LED Lighting, Back-up Generator Installation, Landscape & Hardscaping Lighting in Mount Joy, Elizabethtown, Manheim and surrounding Lancaster County areas.