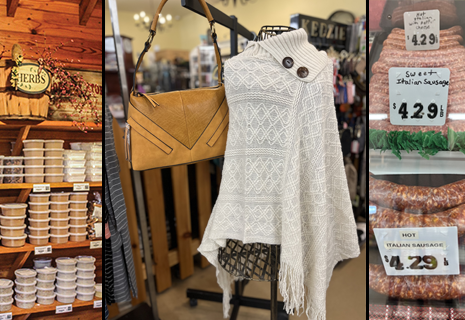 The Country Store and Gift Shop in Mount Joy, PA is a Local grocery store & unique gift shop specializing in deli, meats & bulk food. The Country Store is conveniently located at 3140 Mount Joy Rd. Mount Joy, PA 17552 near Elizabethtown and Manheim in Lancaster County, PA.
The Country Store offers a variety of items including deli lunch meats, bulk food, meat department, grocery items, fresh produce, subs, sandwiches & wraps, homemade soups, Amish country premade salads, vegetable trays meat & cheese as well as fruit trays. The Gift Shop offers an ever-changing selection of unique gifts, woman's apparel, soaps, candles, & seasonal plants.
There are grocery items such as produce, natural/organic products to more fully meet customers' needs, spices, candy, baking and cooking ingredients, pasta, rice, beans, cappuccinos, cereal, oatmeal, nuts and dried fruits. In addition, the peanut and almond butters are ground fresh daily. The Country Store offers a growing selection of all-natural, organic, and gluten-free products for customers with special dietary needs or customers just trying to eat healthier. The Country Store provides unique foods like Amish Family Recipes' jarred goods, Patterson Farms' maple syrups, and the ever popular Stockins Apieries' raw honey. In addition to all the unique groceries and snacks, you can find staple groceries such as milk, eggs, bread, ice cream, frozen vegetables, canned goods, baking mixes, and much more.
Meat & Deli
The Country Store features a large variety of lunch meats and cheeses plus a fresh meat department. Their fresh meat department features their own country fresh sausage, fresh ground beef and a variety of hamburger patties including the famous Shaw burger. They also custom cut steaks and roasts. All items made on site. They offer 90 different varieties of lunch meats and over 75 types of cheeses, and they make a variety of sandwiches daily.
Click on website link for party tray pricing.http://www.thecountrystoremtjoy.com/products/party-trays/
Bulk Food
The Country Store offers a large selection of bulk foods with everything from gummy bears to granulated sugar. The bulk food selections include: *all varieties of flours & full line of baking supplies *wide selection of whole grains, beans, & other legumes *all types of pastas, including gluten free *full assortment of nuts & dried fruits *extensive line of candies and snack foods, including sugar-free offerings *peanut butter (roasted/unsalted & honey-roasted), ground fresh daily
Produce
The Country Store has the freshest in produce that is delivered almost daily, insuring best in taste and quality.
Herbs & Spices
The Country Store has an aromatic room dedicated solely to herbs, spices, & seeds…stop by to review our over 100 varieties that are packaged in small quantity bags, sold at bulk food prices.
Gift Shop
The Country Store offers a beautiful collection of Women's Apparel, Home Décor, garden flags & a variety of gift buying options. From high-quality greeting cards, handmade soaps to purses and many seasonal items you will find something for yourself and that someone special in your life.
Visit during the Seasons for Holiday Décor!