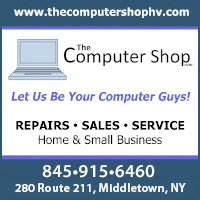 The Computer Shop located at 280 Route 211 in Middletown, NY is a full service computer sales, service, and computer repair shop that provides local PC repair services, Mac repairs, smart phone & tablet repairs, network maintenance & computer hardware & software upgrades to their customers in Middletown, Wurtsboro, Pine Bush, Montgomery, Goshen and the surrounding Middletown, NY area.
At The Computer Shop in Middletown, new installations, repairs, upgrades and maintenance of PC's, and small network infrastructure is their specialty, and they are extremely proficient in installing and troubleshooting Microsoft products, skillful in repairs on laptops, desktops, and monitors - and they can migrate your old files to your new desktop or laptop.
More importantly, at the Computer Shop in Middletown, NY they have recently expanded their repair business to Mac, Smart Phone and Tablet repairs, with free diagnostics - and The Computer Shop HVNY will recycle all your old computer equipment free of charge, with data recovery services available.
Family owned and operated, Joe and Jonathan owner/operators have extensive corporate IT knowledge that they utilize to provide the best services to their residential and business clients.
Their experience and expertise span from Windows XP, Vista, Windows 7, and Server 2003 to MS Office 2000-2013, various internet browsers, and a variety of anti-virus, anti-malware, and security software.
Also, The Computer Shop features remote repair assistance, so you can get help right away for your PC, Mac, smart phone or tablet.
Call The Computer Shop in Middletown, NY today for a review of your network, or find out how they can help keep your office computers or home PC humming with minimal inconvenience and interruption.
The Computer Shop services the greater Middletown, Scotchtown, Town of Wallkill, Montgomery, Pine Bush, Bullville, Chester, Goshen, Rock Tavern, Campbell Hall, Town of Hamptonburgh, Washingtonville, Wurtsboro, Town of Mamakating, and surrounding Orange County, NY communities.
COMPUTER REPAIRS - PC REPAIRS - MAC REPAIRS - TABLET REPAIRS SMART PHONE REPAIRS - NETWORK MAINTENANCE - SITE ANALYSIS HARDWARE & SOFTWARE UPGRADES - WORKSTATION OPTIMIZATION
Like us on Facebook! //www.facebook.com/TheComputerShopHVNY